Car Detailing Launceston - Ceramic Coating & Paint Protection
Where we treat your car like it's our own.
Bring back that new car feeling or protect your pride and joy with our mobile car detailing and ceramic coating paint protection services.
Our dedicated team provide a fully mobile car detailing service to anywhere in the Launceston area, coming to you at a time and day that suits you best. And we promise to deliver showroom results every time!
With our mobile service, you can carry on with your day and have total peace of mind knowing that your vehicle is in the hands of Launceston's best team of detailers.
Get A Free Car Detailing Quote!
Our friendly team will contact you right away with a no obligation free quote.
See Why We Are Launceston's #1 Car Detailing Service!
Interior Car Detailing Launceston
Pre-Sale Detail Launceston
Ceramic Coating Launceston
Premium Quality Car Detailing Launceston
These days, it can be hard to find the time to have your pride and joy detailed. That's why we take the utmost pride in making the process that much simpler for you. Our car detailers offer a completely mobile service, which is great for people who lead busy lives.
You can get the important tasks done and have total peace of mind knowing that your car is in an expert detailers hands receiving the treatment it has been longing for.
From a quick yet precise interior detail to a full premium detail with ceramic coating, our professionals can help you out no matter the current condition of your car.
Our range of Car Detailing Launceston Services
The Leaders in Car Detailing Launceston
TRUST THE PROFESSIONALS WITH YOUR VEHICLE
We offer a convenient mobile car detailing service to make the process as easy as possible for you.
Why waste time dealing with traffic or waiting in line at the car wash on your day off work? We will come to you fully prepared and equipped to wash your vehicle with only the very best-detailing products, tools and knowledge. We're open five days a week from 8:00 am to 5:00 pm. We often get busy, so to best accommodate your needs, it is best to book ahead!
All of our detailers are fully trained and have a passion for cars. They are insured and highly acclaimed by past clients – 100% guaranteed!
Why Choose Us For Your Car Detailing & Ceramic Coating Protection Needs
Our Car Detailing Launceston & Paint Protection Services
As Launceston's #1 certified and awarded workshop, we have all your needs covered. If you are unsure of what you require, why not give us a call? We are happy to discuss what will be the best option for you.
Exterior Car Detail - From $150
Remove all traces of dirt and marks on the outside of your car with this package. Our exterior car detail is a professional service that offers an in-depth clean of the outside of your vehicle. It is a great way to keep it looking new and fresh. Detailing adds value to your car when you come to sell it, but it also helps protect the paintwork from the harsh Tasmanian sun and weather.
Interior Car Detail - From $150
Sometimes, you may only want the interior of your car detailed. After all, it is where you spend most of your time, whether driving to work or out on the weekend; so why not have it looking its best? Whether its dog fur, kids mess, or your coffee was spilt – don't worry! Our specialists can have it look and smelling like new again. Get a thorough interior detail today.
Full Car Detail - From $250
Our full car detail includes both the interior and exterior of your vehicle. We take our time to clean every nook and cranny, inside and out. We'll remove all the dirt, dust, and debris that has built up over time. And we'll give your car a fresh new feeling and look!
Pre-Sale Detail - From $365
The ideal service to have your car looking and smelling its absolute best again. This service is perfect before a special event or for those who want to sell their car for the best price possible. Our pre-sale car detail service includes all components of your interior and exterior to provide your vehicle with a complete in-depth clean. Leaving you with that new car feeling again!
Ceramic Paint Protection - From $700
A ceramic coating can be described as an additional clear coat with incredible protective, gloss and self-cleaning properties. Ceramic paint protection is suitable for new and used vehicles and is the best car paint protection that money can buy. Offering superior protection against the elements and environmental fallout. Things such as bird droppings, decomposing insects, tree sap, air pollution, heat and UV damage will no longer be as much of a problem.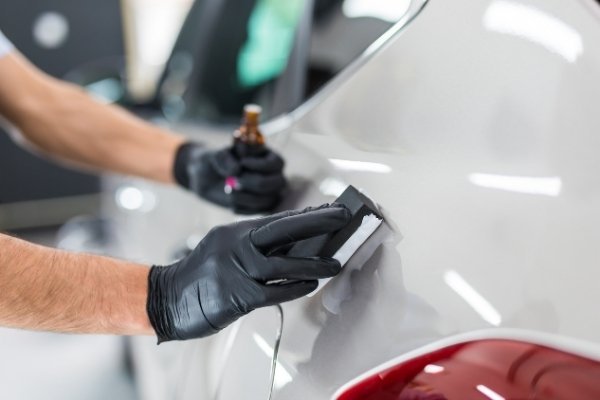 Ceramic Coating Paint Protection Launceston
Whether you have just bought a new vehicle or have an old classic, protecting your vehicle's paint is essential.
With so many different protective options, it's easy to get lost in technical jargon, but ceramic paint coating is recognised worldwide as the leading paint protection technology. Ceramic Coatings provide a hard surface finish that protects against environmental fallout, bird acid, tree sap whilst remaining easy to maintain.
Our Other Car Detailing Launceston Services
Besides our most popular ceramic coating Launceston and car detailing packages, we also offer many other services. Don't see what you are quite after? Why not give us a call? Our team are happy to help you with all your car detailing or ceramic paint protection requirements. 
What Our Launceston Car Detailing Customers Say
We take pride in our positive car detailing reviews. Here is what a few of our loyal clientele have to say.
Excellent quality work and friendly staff. My carpets were heavily stained from years of toddler snacks and dog hair made the car a mess. Everything is like new now and they cleaned my kid's car seat as well. I'm very satisfied.
Really exceptional service. Staff were all very friendly and they did an amazing job cleaning my Subaru Outback that had not been detailed in a very long time. Will definitely go back.
Mobile Car Detailing Launceston
Car detailing doesn't need to be something that seems like a chore and is left till the end of the week. Our professionals can help!
Mobile Car Detailing is something most people want to leave for "somebody else". We understand it can be a tedious and sometimes difficult procedure, especially if you don't have the appropriate tools or knowledge. In fact, washing your car incorrectly can do more harm than good. Washing, vacuuming, and polishing a car to have it appearing like new can take time, so if you are unsure, you should leave it to the experts. 
SERVICE TIMES — this will depend on just how busy our team of car detailers are on the day, so it's best if you make a reservation with us. A standard car detail can take up to 3- 4 hrs. However, as long as we have access to your car, you can carry on your day while our professionals will take complete care of your car.
We are the best mobile car detailing solution in Launceston as we come to you, anywhere, at a time that suits you. With a fully insured and adequately trained teamed, you can be assured your car is in the hands of someone you can trust. No matter the reason for your call, quick spruce up, a regular full detail as well as wax, or getting your car all set for a unique occasion or event, whatever it is, we can help you out.
Get in Touch With Us Today!
Get A Free Car Detailing Launceston Quote Today!
Please fill out the form below, and one of our car detailing professionals will be in touch with you shortly!